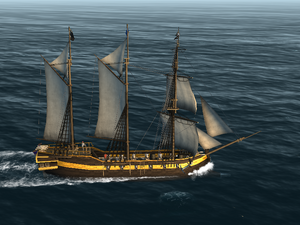 "A barquentine is a sailing vessel with three or more masts; with a square rigged foremast and fore-and-aft rigged main, mizzen and any other masts.
The advantages of a smaller crew, good performance while carrying plenty of cargo made it a popular rig at the end of the 19th century." - Wikipedia
Barquentine is only available in a Civilian version.
Type
Hull
Sails
Crew
Cannons
Cargo Capacity

Sailing Speed

(angle/side/back)

Barquentine
70+70
40+40
50
12+5
2200
( 62 / 9 / 9 )
Ad blocker interference detected!
Wikia is a free-to-use site that makes money from advertising. We have a modified experience for viewers using ad blockers

Wikia is not accessible if you've made further modifications. Remove the custom ad blocker rule(s) and the page will load as expected.