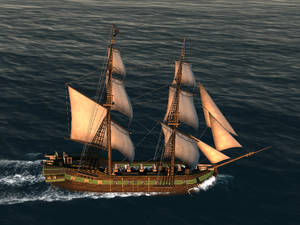 "A brig is a sailing vessel with two square-rigged masts. During the Age of Sail, brigs were seen as fast and maneuverable and were used as both naval warships and merchant vessels." - Wikipedia
The Brig is available in Civilian and Military versions.
The HMS Interceptor is a Premium Brig.
Type
Hull
Sails
Crew
Cannons
Cargo Capacity

Sailing Speed

(angle/side/back)

Civilian Brig1
50+50
27+27
38
10
1800
( 80 / 6 / 10 )
Civilian Brig2
50+50
27+27
40
10+2
1800
( 80 / 6 / 10 )
Civilian Brig3
60+60
30+30
50
12+2
2000
( 80 / 6 / 10 )
Military Brig1
58+58
30+30
50
16+4
1700
( 80 / 6 / 10 )
Military Brig2
70+70
40+40
60
18+2
1800
( 80 / 6 / 10 )
Military Brig3
70+70
40+40
64
18+4
1800
( 80 / 6 / 10 )
HMS Interceptor
40+40
70+70
70
20+4
2000
( 70 / 9 / 11 )