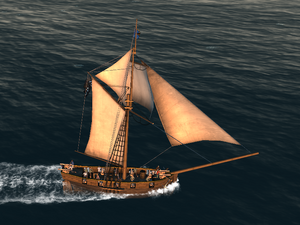 A cutter is typically a small, but in some cases a medium-sized, watercraft designed for speed rather than for capacity.
Traditionally a cutter sailing vessel is a small single-masted boat, fore-and-aft rigged, with two or more headsails and often a bowsprit. - Wikipedia
Cutters are available in Civilian and Military versions.
The Premium ship HMS Nimble is a Cutter class.
Type
Hull
Sails
Crew
Cannons
Cargo Capacity

Sailing Speed

(angle/side/back)

Civilian Cutter1
14+14
10+10
9
6
800
( 54 / 8 / 9.5 )
Civilian Cutter2
14+14
10+10
9
6+2
800
( 40 / 8 / 10 )
Military Cutter1
15+15
12+12
10
6
800
( 54 / 8 / 10 )
Military Cutter2
15+15
12+12
12
6+4
700
( 54 / 8 / 10 )
Military Cutter3
15+15
12+12
10
8+2
800
( 54 / 8 / 10 )
Military Cutter4
15+15
12+12
12
10
700
( 54 / 9 / 9 )
HMS Nimble
20+20
20+20
14
12+4
900
( 50 / 10 / 10 )