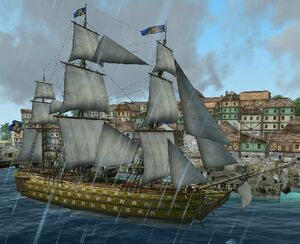 First-Rate Ships of the Line are massive ocean-going fortresses with three full decks of guns, most carrying more than 100 cannons.   
These vessels functioned as flagships for military fleets and very few were ever built. Owing to their great size (HMS Victory displaced 3500 tons), they were hard to maneuver and were very expensive to operate, and as a result, they were mostly kept out of commission during peacetime.   
They are only available as Military versions.  
HMS Victory is a Premium First Rate Ship of the Line.  
| Type | Hull | Sails | Crew | Cannons | Cargo Capacity | Sailing Speed (angle/side/back) |
| --- | --- | --- | --- | --- | --- | --- |
| First Rate | 339+339 | 225+225 | 600 | 104+8 | 3500 | (84.64 / 6.56 / 8.35) |
| HMS Sovereign Of The Seas | 380+380 | 250+250 | 430 | 106+12 | 4770 | (80 / 7.3 / 9.5) |
| HMS Victory | 400+400 | 250+250 | 600 | 108+10 | 3700 | (80.2 / 7.11 / 8.75) |
| Montange | 371+371 | 250+250 | 620 | 144+12 | 3700 | (79.02 / 7 / 9) |
| Santisima Trinidad | 390+390 | 270+270 | 650 | 122+14 | 4500 | (81.35 / 6.94 / 8.34) |
| HMS Duke Of Kent | 411+411 | 285+285 | 857 | 180+10 | 5300 | (80 / 7.14 / 8.73) |