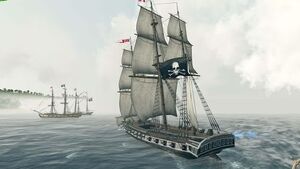 Gunboats built for speed, these ships often escorted larger warships but were quite capable on their own. They are fast for their size to keep up with smaller ships and still have firepower to engage larger ships.
Famous frigates include the USS Constitution and Black Beard's Queen Anne's Revenge.
Frigates are only available in Military versions.
The Premium ship USS Constitution is a Frigate.
Type
Hull
Sails
Crew
Cannons
Cargo
 Sailing Speed
(angle/side/back)
Frigate1
90+90
65+65
100
32+2
1800
( 84 / 7 / 10 )
Frigate2
100+100
70+70
110
36+2
2100
( 84 / 7 / 10 )
Frigate3
120+120
80+80
130
42+2
2100
( 84 / 7 / 10 )
USS Constitution
100+100
150+150
140
48+4
2200
( 70 / 9 / 10 )