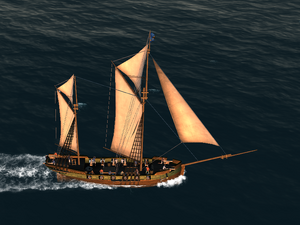 "A ketch is a sailing craft with two masts. The distinguishing characteristic of a ketch is that the forward of the two masts (the "mainmast") is larger than the after mast (the "mizzen")." - Wikipedia
The term 'ketch' comes from catch, since early ketches were primarily fishing boats.
There are both Civilian and Military versions.
Type
Hull
Sails
Crew
Cannons
Cargo Capacity

Sailing Speed

(angle/side/back)

Civilian Ketch1
22+22
17+17
14
0+2
900
( 50 / 8 / 8 )
Civilian Ketch2
22+22
17+17
14
0+4
950
( 50 / 8 / 8 )
Civilian Ketch3
30+30
20+20
18
6
1100
( 50 / 8.5 / 9 )
Civilian Ketch4
30+30
20+20
18
8
1100
( 50 / 8.5 / 8.5 )
Military Ketch1
35+35
24+24
22
10+2
1000
( 50 / 9 / 9 )
Military Ketch2
35+35
24+24
22
12
1000
( 50 / 9 / 9 )
Military Ketch3
35+35
24+24
24
12+2
1000
( 50 / 9 / 9 )