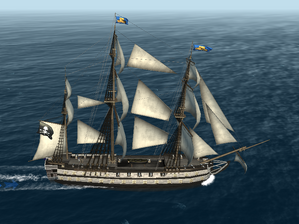 Second Rate Ships of the Line are powerful warships and flagships with two or sometimes three full decks of guns; most carrying up to 80 cannons. Historically, these ships would have been classified as third rates (with about 80 guns or less) while actual second rates carried upwards of 90.
Only available as Military versions.  
The HMS Tonnant is a Premium Second Rate ship.  
Type
Hull
Sails
Crew
Cannons
Cargo Capacity

Sailing Speed

(angle/side/back)

Second Rate
250+250
120+120
350
72+6
2800
( 98 / 5 / 8 )
HMS Tonnant
150+150
300+300
400
74+8
3000
( 88 / 6 / 8 )