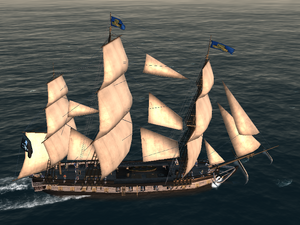 The Premium Frigate was originally built in 1797 to combat the Barbary Pirates and protect US shipping from privateers.
The Constitution also saw action in the War of 1812. Her reputation for eluding capture, defeating larger vessels and sustaining minimal combat damage earned her the nickname 'Old Ironsides'.
The ship is still listed as an active vessel in the US Navy. It is also the oldest ship afloat in the world.
Type
Hull
Sails
Crew
Cannons
Cargo Capacity

Sailing Speed

(angle/side/back)

USS Constitution
100+100
150+150
140
48+4
2200
( 70 / 9 / 10 )
Ad blocker interference detected!
Wikia is a free-to-use site that makes money from advertising. We have a modified experience for viewers using ad blockers

Wikia is not accessible if you've made further modifications. Remove the custom ad blocker rule(s) and the page will load as expected.