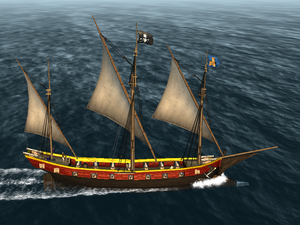 "A xebec was a Mediterranean ship used mostly for trading. It would have a long overhanging bowsprit and aft-set mizzen mast. The term can also refer to a small, fast vessel of the sixteenth to nineteenth centuries, used almost exclusively in the Mediterranean." - Wikipedia
The Xebec has some of the strongest hulls and masts available in a Civilian ship. While sporting substantial firepower, the ship does give up cargo space in exchange for speed.
These ships are available in both Civilian and Military versions.
Type
Hull
Sails
Crew
Cannons
Cargo Capacity

Sailing Speed

(angle/side/back)

Civilian Xebec
80+80
60+60
50
14+2
1800
( 52 / 9 / 9 )
Military Xebec
80+80
60+60
60
20+2
1800
( 52 / 9 / 9 )
Ad blocker interference detected!
Wikia is a free-to-use site that makes money from advertising. We have a modified experience for viewers using ad blockers

Wikia is not accessible if you've made further modifications. Remove the custom ad blocker rule(s) and the page will load as expected.